︎ Available to purchase at Hopscotch Reading Room Berlin, & at edition~verso, Johannesburg, contact to order︎
Meteorites, a book of poems by Lavendhri Arumugam. Softcover, 20 pages, with 6 hand-stamped colour plates and Riso printed cover. Edition of 50. Printed in Johannesburg and Berlin. Published by Oriole Press and edition~verso, Johannesburg, 2023.
South Africa R450 (excl. shipping)*
Europe & UK €30 (excl. shipping)*
*
To purchase email fmburger(at)gmail.com
Meteorites is a book of poems about childhood, curiousity, and reproach, written by writer/maker/curator
Lavendhri Arumugam
* – who grew up in East London and Johannesburg (South Africa) and now lives and works in London (United Kingdom).
They made an aunty of me–
busy, looking, picking, hiding
retrievable
treasures for later

—from 'Four PM', Lavendhri Arumugam, Meteorites, 2023
Meteorites was written in relation to
Plain Furniture
, a collection of writings and graphics by South African artist
Peter Clarke
– poetic descriptions of encounters, memories and musings from across the artists' life in Cape Town from the mid 1930s to the 1990s – published in 1991 by Gus Ferguson's Snail Press, Plumstead, Cape Town.
"Life is at times bitter but often pleasant"


—from 'Bokkems and Wine', Peter Clarke, Plain Furniture, 1991
Meteorites is illustrated with hand-stamped colour plates, printed and co-published with
edition~verso
.
* Lavendhri Arumugam has a Masters in Creative Writing from Bath Spa University, and was a recipient of the London Writers Awards for Narrative Non-fiction in 2021. Arumugam is presently and continuously working on a non-fiction manuscript about cricket and fatherhood.
www.lavendhri.com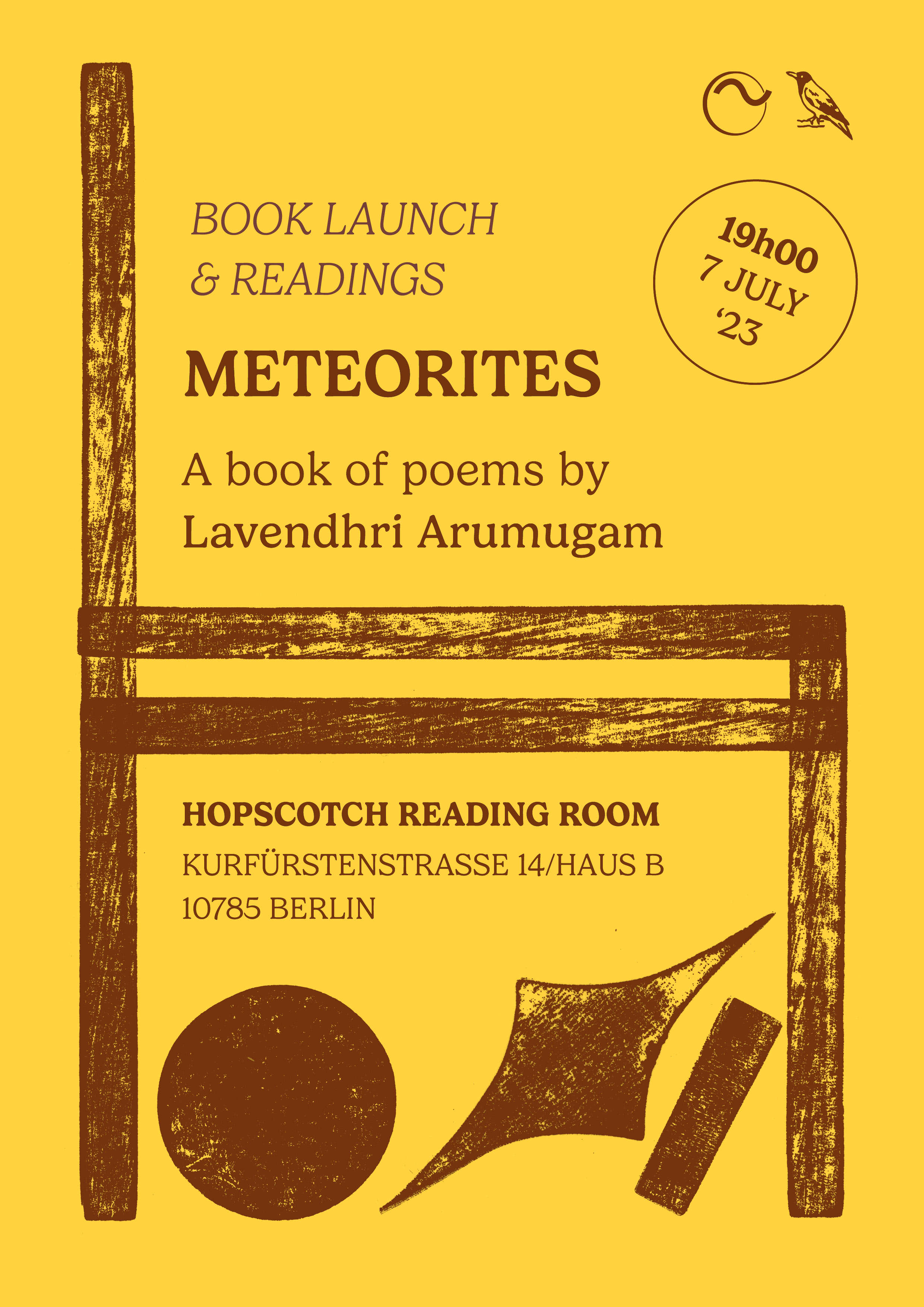 Colophon

Meteorites
Lavendhri Arumugam
2023

Design and illustrations by francis burger

Conceptualised and supported as a part of 'Papertrails', presented by The Independent Publishing Project with Jonah Sack at A4 Arts Foundation, Cape Town, 2022

Colour plates printed at edition~verso with Sara-Aimee Verity, assisted by Michaela Verity, Boitumelo Phashe, and Bradley Cloete; Inners printed by Postnet Norwood; Covers printed by Drucken3000

With thanks to Sebastian Borckenhagen, Sue Clark, Theron, Lara, and to Siddartha Lokanandi and Erin Honeycutt (Cutt Press) at Hopscotch Reading Room, Berlin.

Oriole Press & edition~verso

Johannesburg

978-0-6397-9041-1